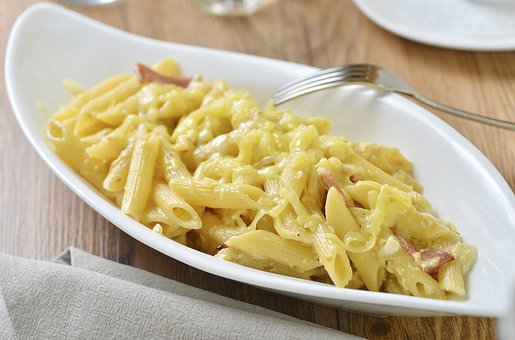 Egg-less Apple / Pineapple Macaroni Recipe
I am yet to find a person who is not fond of Baked Macaroni. I love this dish and would like to share the recipe with all those who like quick, easy, and tasty cooking.
So, here is something for your Sunday dinner – Baked Macaroni with Pineapple / Apple.
Let me first solve the confusion with that slash. The originally popular variant is Baked Macaroni with Pineapple. But, I tried substituting Pineapple with an Apple.
Apple is healthy. And Baked Macaroni with Apple tastes even better than the Pineapple variant.
So, let's directly move on to the recipe of baked Macaroni. I know your time is precious and so is mine. 🙂
Ingredients:
1 Spoon Oil
4 Tablespoons Homemade Butter
4 Tablespoons Wheat Flour (or all-purpose flour)
1 Cup Milk
Salt, Sugar, Black Pepper
1 Cup Macaroni
1 Apple
Cheeze
Recipe: (Preparation)
Put a frying pan on medium heat and add 2 cups of water. Bring it to a boil. Add 1 teaspoon oil and 1 teaspoon salt to it. Add the raw Macaroni shells to it (any shape or size is fine, as per your preference). Let it boil till the shells change color and appear cooked. Remove the pan from flame and suspend the mix into a sieve to drain off the water.
How to Make White Sauce
Wash and wipe the pan. Put it on low heat. Add 4 tablespoons of butter to this and stir. When it starts melting, add 4 tablespoons of whole wheat flour and continue stirring for a minute.
Now add 1 cup of milk to this mixture and keep stirring further.
Add 1 teaspoon sugar and continue stirring. Further, add 1/2 spoon salt. Keep stirring till the white sauce is moderately thick. Now put the flame off.
The Macaroni
Add the boiled macaroni to the white sauce mix. Sprinkle black pepper over this. Transfer this mix to a baking container. Greasing the container is desirable.
Cut apple into pieces and add this to the container. Mix the contents of the container well.
Layer the container with grated cheese. You can choose the quantity as per your preference.
Baking
Preheat the OTG (oven).  Put the container in the oven for about 15 minutes. The temperature should be 160 degrees.
As such baking time can vary depending on the quantity and how dark you like the cheese layer to be cooked. So, do keep a check!
After removing the container from the oven, serve this dish hot with tomato ketchup.
Try the recipe of baked Macaroni now 🙂